VitaPet Joint Care Green Lipped Mussel is natural, safe and highly effective as a preventative and treatment for arthritis, joint injuries and overall well-being for your pet.
VitaPet Joint Care is 100% Pure Green Lipped Mussel, and contains a source of
-Omega 3s
-Glucosamine & Chondroitin (GAG's)
-Vitamin C & E
-Copper, Zinc & Manganese all of which can help improve and repair joint function or simply maintain healthy joints.
Active Ingredients per Scoop:
New Zealand Green Lipped Mussel……….250mg
No artificial flavours, sweeteners, preservatives or colours used in this product.
Directions for Use:
Up to 5kg – 1 scoop daily
6kg–25kg – 2 scoops daily
26kg–34kg -3 scoops daily
Over 35kg – 4 scoops daily
Cautions:
Do not use in pets with allergies to shellfish. Not for use in pregnant or lactating pets as safety in these animals is not known. Consult with your veterinarian before using this product in animals with liver or respiratory disease.
What is Green Lipped Mussel?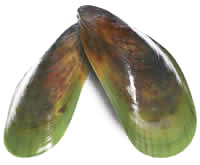 Green lipped mussel (Perna Canaliculus) is a unique mollusc native to the coastal waters of New Zealand.
Green Lipped Mussels provides a natural blend of natural proteins, minerals, glycosaminoglycans and essential Omega-3 fatty acids. The unique green lipped mussel substances are recognized as helping joint mobility, cartilage maintenance, good health and general well-being. Green lipped mussel inhibits inflammation in the body. Green-lipped mussels contain a unique combination of fatty acids that are not found in any other marine or plant life. ETA only found in green lipped mussel is a glycosaminoglycan, which has been shown to assist in the repair of damaged joint tissues. Studies have also found that Green Lipped mussel blocks the formation of leukotrienes inhibiting arthritis.
In addition to EPA and DHA, VitaPet Joint Care powder also contains a unique omega-3 fatty acid called ETA, which has strong anti-inflammatory properties reducing joint swelling and pain, as well as chondroitin sulphate, glucosamine, antioxidants and cofactor minerals. These have a synergistic relationship working together to reduce inflammation, limiting further damage and help regenerate damaged joint cartilage and synovial fluid.
When supplementing your pet with GLM their body is able to produce its own glucosamine and chondroitin. Additional supplementation with glucosamine is not required when giving GLM.